Gone are the days when people start working immediately after graduation and stay in the same company all through till retirement. The typical job seeker's dream of working in a multinational organisation has also started to lose its appeal.
While joining a startup firm may not be the right move for everyone, there are undoubtedly some compelling factors that attract some people to the startup culture to explore their enterprising ambitions in this exciting space.
So what motivates people to join startups? Is startup just a fad or is it staying for good? Through various conversations and interviews with our candidates, we've uncovered some interesting insights on why people choose to join and work for a startup company.
possible causes of 'startup fever'
1. feeling like 'just another cog in the wheel'
Many employees who have been working in large organisations for a period of time may feel that they are just a small fish in a big pond. They are unable to see the results of their day-to-day activities and how their work can make a significant impact to the overall business goals. Employees want to know that what they are doing is making a difference and that gives them a sense of purpose in their careers. This is one of the cause that may lead to 'startup fever'.
2. feeling 'pigeonholed' by a role
Working in a role that is tightly defined with stringent responsibilities that seldom change could have a monotonous effect. If the employees feel as though new skills set are not being developed and honed, they will not feel challenged in their job and may gradually lose the motivation to go to work. This may result in the sudden onset of the 'startup fever'.
3. feeling suffocated by the 'red tape'
In traditional and inflexible work environments, employees may sometimes feel as though they are restricted in their ability to be creative and agile in the way they work. They are usually unable to make any decisions (ad hoc or otherwise) without first seeking formal approval from others within the organisation.
The lack of autonomy and the arduous approval process to get things done might prove too much for some employees and will likely result in a high risk of them contracting 'startup fever'.
possible symptoms of 'startup fever'
When a person made the move to a startup and things are well underway, there may still be some teething problems. However, let's assume things are rolling along nicely and 'startup fever' has well and truly tipped the thermometer into the red hot territory. The following symptoms may apply:
1. extra 'feathers in the cap'
Employees have been pushed out of their comfort zone and the new role requires them to wear multiple hats and work collaboratively within a lean and agile team. As a result, new skills are acquired relatively quickly and the employees will be able to increase their capabilities to multitask and essentially strengthen their professional 'toolkit'.
2. faster progression
The 'startup fever' may lead employees to work longer hours, perhaps harder than they ever did. However, with the product or service taking off and the business growing exponentially at this point, the company will need all hands on deck in order to meet increasing market demands. As a result, they are likely to see their careers being fast tracked to take on a larger remit and more responsibilities.
3. feeling of empowerment
On the back of this career progression, the employee will be given more responsibility and accountability. The boss has delegated decision-making responsibilities to the employee and while this may mean more pressure on the job, it will also lead to the feeling of empowerment and sense of purpose - which will come with the ability to influence or have a direct impact on the success (or failure) of the startup.
treatment in R&D phase
There is no known pill or elixir to cure the 'startup fever'. There is also no right or wrong answer as to the size of the startup organisation an individual should sign up for. It is highly dependent on the candidates' career aspirations as well as personal and professional ambitions.
It is undeniable that the 'startup fever' has started to catch on and is slowly but surely infecting more people across more industries than ever before. In fact, our 2017 Employer Brand Research supported the above examples, listing the following as the top three reasons why employees choose to join a startup: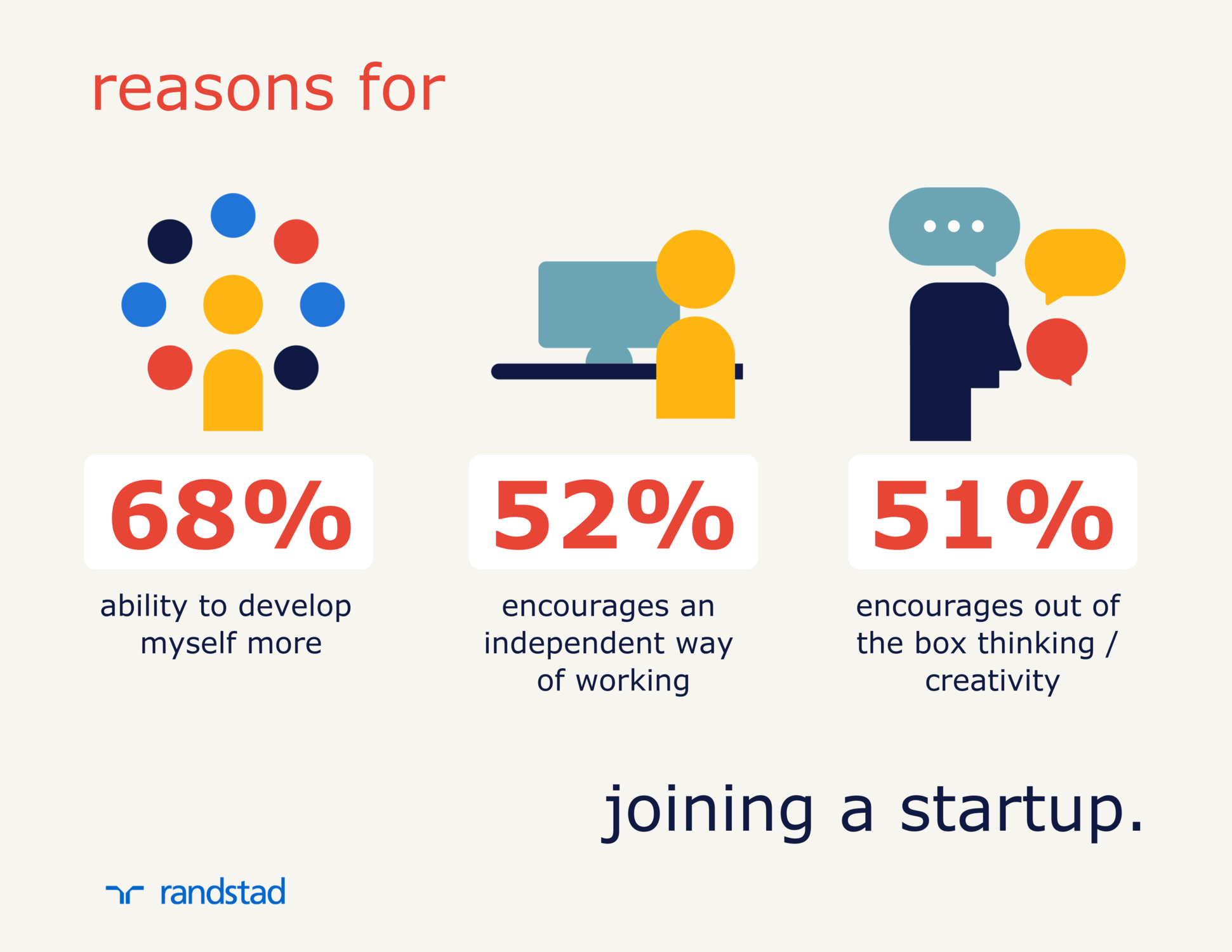 With a growing understanding of the possible causes and symptoms of this burgeoning epidemic, employers and employees should be better equipped to know when and how the 'startup fever' may strike and take the best possible action.
Employers who are worried about losing their talent to startups may want to consider fostering an entrepreneurial culture, even within multinational companies, by providing employees with the opportunities, resources and counsel needed to manage their own projects. Employees can also continue to pitch new ideas to their line managers or take the lead in creative problem-solving to feel more empowered and gain a sense of purpose.
randstad blue suite
The Randstad Blue Suite is a collection of personal insights from the Randstad leadership team.
We are always looking for outstanding sales, marketing and communications professionals who can make a difference to our clients' businesses. Connect with us for the latest job opportunities and let us help you fulfil your career aspirations.