Twenty-six levels high, towering above Hennessy Road in Causeway Bay, I'm sitting in a modern and minimalist office space with a breath-taking view of the urban skyline spanning from Victoria Harbour to Kowloon Bay.
Across from me sits Alessandro Paparelli, Vice President of Human Resources, Asia-Pacific at Kering, who is here to talk about Kering's employer brand strategy across Asia-Pacific – a topic top of mind after Kering received the 2017 Randstad Employer Brand Award for Most Attractive Employer in the Luxury & Retail sector.
thank you for this time with us. would you tell me a bit about yourself?
I previously worked at Salvatore Ferragamo for about 10 years, last as Regional Executive Director HR & Organization for Asia, after a career in Management Consulting (EOS) and in academe at Bocconi University of Milan, from where I also graduated.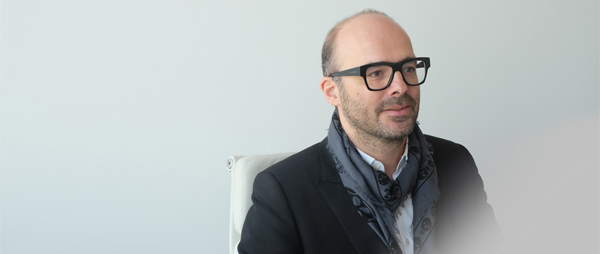 what is it about the luxury industry that continues to excite you?
It's a fast industry – things change very quickly. We have a natural change cycle built in the industry with seasonal collections. It affects some jobs more than others – such as merchandisers, designers and salespeople – but ultimately we are all affected, including HR. We have to go fast according to the fashion cycles and that pace and dynamic makes it stimulating. As a global brand, we have incredible exposure and insights into markets and cultural nuances. Also, it's an industry that is still very people intensive: after all, we have a lot of people working for our stores and in our offices. This of course makes it especially interesting if you are in HR, and is another factor that keeps this industry exciting.
how many employees are there across the brands and globally for the region?
We are close to 12,000 here in the region and around 40,000 globally. In Hong Kong SAR, we have around 1,400 employees, and my HR team has 42 people, in addition to the HR teams of some of the brands.
how would you describe the HR operations with kering?
We work to achieve agility, transparency and engagement.
We want to be fast, but more important than just achieving speed is having agility in our approach across all brands, markets, and cultures. That agility can be translated from enabling people to move within brands in an easier way to evolving our approach according to the needs of the business. For example, we have to be proactive to support the business if there is an expansion in Australia and the year before there wasn't one foreseen – we need to be ready to move where the business is moving.
Transparency is more important than ever, particularly with the new generation. There is an increased need to know more about the environment which is around you, not only for consumers but for our own employees as well. We're rebuilding the HR processes and systems in that direction so that people can themselves access information in a much broader and seamless way.
Engagement is a priority and we address it from several angles. For example, we have completely revolutionised our global employee opinion survey, so that we can enable change and action more readily and rapidly. For example, the managers will have the results (and related infographics) instantly instead of waiting for them to be consolidated. They have the responsibility to design and execute their own action plans that can result in higher success or better improvement.
In our Asia-Pacific offices, we introduced the Lunch & Learn series, where we invite leaders from brands to speak on specific topics. This seemingly small addition has received overwhelmingly positive feedback from the organisation. Last week, one of our Retail Directors shared how Fashion Week and the buying cycle works. This isn't revolutionary, but it serves our purpose – accessibility to information and having our people engaged. With greater transparency across our business, it can spark curiosity which is central to our motto: empowering imagination.
how long have you implemented this value-driven strategy?
It has taken time to build and align this common objective together with all the brands. There were different expressions of these values all along –conversations started with previous efforts. Crucial to our more recent progress are a few key players, like our global Head of HR, who joined Kering about one and a half years ago and has since been instrumental to the momentum and maturing of this value-driven strategy and all the important projects that stem from it.
kering has several high-profile brands within its portfolio. when it comes to an employer branding strategy, how do you manage to satisfy the different characteristics of each brand while simultaneously reinforcing the overall brand of the corporate organisation?
It is a very interesting challenge because we are not a group that wants to create one standard for everyone – we don't believe in "one size fits all."
We have a slogan that we live by: "Freedom within a framework."
It expresses how we respect the unique qualities and characteristics of each of the brands within our portfolio. We believe our brands perform and speak to people precisely because they have clear and distinct identities and that independence needs to be protected, nurtured and supported. That approach stands true for employer branding and all our HR activities.
At the same time, we have a strong, unique identity as a group, which has not been imposed, but emerged through intelligent, articulated conversations with all the global HRDs and leaders of all the maisons. A longer process, but it paid off: this is why we are today truly unified and can have well-timed executions at a brand level and the group level. Building consensus is key.
For the "framework" part, at the group level, we focus on how we can add value to the brands on top of their own activities, through our global capabilities and resources. As a single brand you might not be so ambitious as to, say, roll out a global HR management system in one year, but as a group, we can and want to be this daring.
Here is a kind of balance between autonomy and independence and collaboration and co-dependence, two dynamics that need to be equally mastered to ensure success. More specifically on employer branding, at the group level, we do provide guidelines and support, but we don't apply a rigid blueprint and we respect the brands' unique identities and related employer branding strategies.
tell me a bit about kering as an employer.
We have a common vision and employer branding proposition across the different brands. Kering encourages all of its brands to reach their full potential, in the most sustainable manner. That is why we say that at Kering we're empowering imagination.
While we want to be the preferred employer in the luxury industry, we may not be the right place for everyone, because we are uncompromising in our core values. We want driven individuals who are responsible, passionate about making a difference and who thrive in creative and diverse environments. Creativity, above all, is vital. The ability to conceive something that had not yet existed is what drives us every day.
As an employer, we are passionate about advancing gender equality by empowering women. Women are the largest segment of our global talent pool and they make up for the majority of our global workforce, and over two-thirds across Asia-Pacific.
We are working hard to make Kering an employer of choice for women and to set an example for gender equality within the fashion and luxury industry.
And finally, we are committed to shaping a sustainable business. It's both a deep belief for us and a strategic business approach, allowing our brands to lead with future-proof business practices that are conscientious and responsible towards people and planet.
if you could describe your employer brand as an individual, how would you describe this person?
I think it would be a rock star with a major in philosophy. I believe it's in our nature to live in the fast lane, take risks, be daring, and not shy away from the spotlight, but to claim the stage when needed. That rocker mentality to me is very much aligned with the Kering spirit. And at the same time, there is an inner philosopher – open-minded, thoughtful, curious, analytical, detail-oriented and conscientious. It's really important for us to grasp and understand different views and angles, explore connections and approach discoveries.
what are a few HR initiatives that help position kering as a preferred employer?
We have implemented a global parental policy which is having a strong positive impact on our employees.
Kering is pioneering in this area, as one of the few global companies that apply worldwide standards for maternity, paternity and adoption leave. I mention the three of them because it's an important characteristic of this policy, which is progressive, inclusive and relevant to today's world. We have increased the days of paternity leave and offered the same number of fully paid days for adoption leave as we do for maternity leave, whether it is for hetero couples or same-sex couples.
Our mentoring program, which is dedicated to women mentees, is an expression of our commitment to empowering women. Mentors can be any one of our most experienced colleagues, but mentees are only women, at least for the moment. It is a way to give our female talents additional support for their career development. This year, we kicked off the second edition in APAC and received overwhelming responses – doubling the size of the program. It was very reaffirming to see that progress and the support we're receiving from senior mentors like brands' CEOs and Presidents. A third and important program is focused on driving internal mobility which is a clear advantage as you can imagine when you have so many functions and brands across the portfolio. We launched an activity around this earlier this year to further push internal mobility across the group and made it easier also through our digital platforms.
how would you describe kering's relationship to digital?
There is an extremely strong digital accent in our strategy and this is not only true for HR but for the group at large. From an HR perspective, it would be pointless for us to be active on social media, for example, if when a candidate engages with you, they are redirected in a completely different world and confront a process that is not digitally enabled. Agility is important – especially when it shapes experiences. This opinion is a huge part of the drive for why we are in the process of implementing a global HCM system in less than a year from now, which will be cloud-based, and mobile friendly.
for a lot of clients, their biggest challenge is building awareness as an employer with the public. has kering been vocal enough?
We started from a situation in which we didn't communicate broadly on some of our commitments – perhaps the language and approach had not yet been cemented, but most importantly we always want to make sure we communicate about something we do, not only something we believe. It's so important to walk the talk, isn't it?
Four or five years ago, it was more our brands speaking for themselves than Kering speaking about our employer brand Today, we happily have both, and we have a multi-channel approach to communicate a consistent message about our employer brand – from corporate communications, to media, press, internal communications, campus recruitment.
But it's important to stress how much we believe in dialogue. We don't just get out there and say, "Hi, this is our message, bye." We engage with all players within our ecosystem – NGOs, schools, institutions, associations, competitors, peers, and above all, our employees.
where do you think a lot of organisations in asia stand on the maturity scale in terms of their employer brand?
My feeling is that a little too often, employer branding is an effort in statements, which may sound trite because many companies use a similar language. More important than the message is the real experiences you shape through your organisation's values and practices. What matters is whether companies are authentic in the messages they communicate and whether employees experience these values and propositions in their day-to-day activities and interactions.
There are some good examples across the region and industries, and strategic collaborations can help improve how we position ourselves as the employer of choice. For example, in our mentoring program, we have activities together with Google: we do have the advantage of residing in the same building, but more importantly we both believe in exchanging experiences, knowledge and insights in an inclusive way: we embrace the opportunity to collaborate with other strong employers.
in 2017, kering won the most attractive employer within the luxury & retail sector based on the randstad employer brand research, which surveyed over 5,000 hongkongers on their views of more than 75 of the largest organisations in hong kong SAR. what did it mean to win the award?
It was particularly meaningful for us because it was from a survey of the general population, which is in a way "the voice of the people." As an expression of preference from Hongkongers, it was great to see that Kering is considered the most attractive employer in our industry. We eagerly shared news of the accolade with everyone within our organisation, including our global CEO, François-Henri Pinault, who was delighted. Up at the very top, employer branding is a topic of great significance for us.
Thanks to the successes of our brands, Kering has become more visible as an employer, and we're having an incredible time. We could not enjoy these types of successes without the courage, attitude and drive of the thousands of people that move our organisation forward. The trophy sits here in my office, but they are the owners.
finally, my last burning question – why do you have a rubber chicken and all these toys on your desk?
The chicken – Hubert – is my timekeeper. I use it in meetings because it actually makes a sound, so I get two results at the same time: it helps us with time keeping and we have a laugh. The toys are used as props in meetings as well, and for when a colleague brings their kids to the office. It's also a good reminder to not take oneself too seriously. After all, play is vital to creativity and – you guessed it – for empowering imagination.
the suite brew
The Suite Brew is a collection of refreshing and inspiring stories from leaders, innovators and influencers shaping the world of work.
This article was first published on Randstad Hong Kong
If finding exceptional talent for your business is a key challenge or if you want to take your professional career to the next level, please get in touch with us.