Procter & Gamble (P&G) – one of the world's largest consumer goods companies – received the second runner-up award for most attractive employer in Singapore for 2018
Have you ever bought an Oral-B toothbrush, a pack of Gillette razor blades or a bottle of the world-renowned SKII facial treatment essence? These are some of the products that P&G develops and sells to consumers all around the world. As one of the world's most innovative leaders, P&G is known for their exceptional range of products, being a research and development pioneer and for its extensive marketing knowledge in the world of consumer goods.
In 2017, P&G announced that it will be investing USD 100 million over the next five years to set up its first digital innovation centre in Singapore, the first outside of US. The facility will focus on building its capabilities in three key areas – supply chain management, e-analytics and e-business.
procter & gamble – winner highlights
P&G's bold take on innovation is an attractiveness factor for young talent who want to work with them. Want to know how they fared in this year's Employer Brand Research? Scroll down to find out more!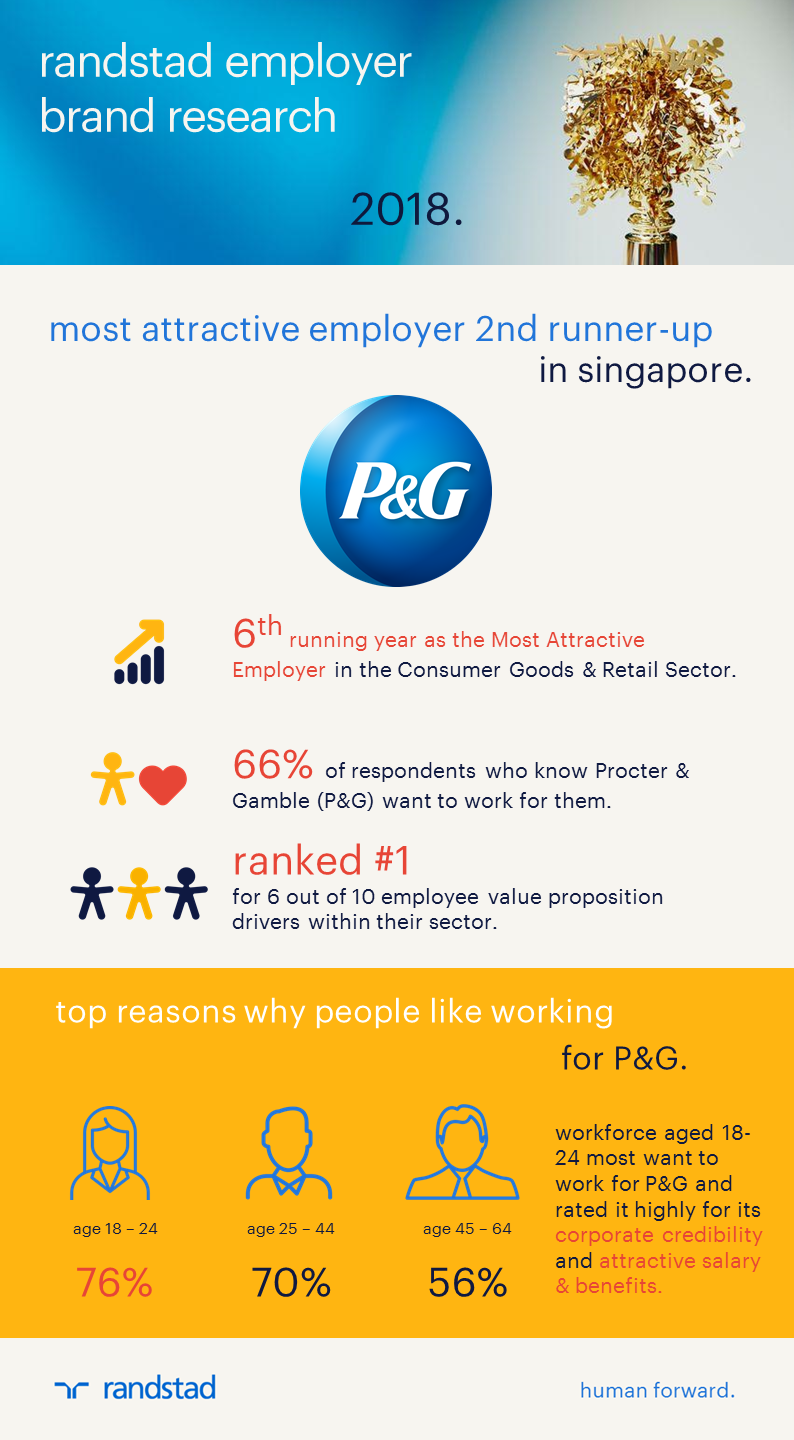 more on employer branding:
about randstad employer brand research
Celebrating its 18th edition globally, the awards based on the outcome of the Randstad Employer Brand Research are presented each year to the most attractive employers in 30 markets across the globe. It is the most representative and inclusive employer brand research in the world.
The outcomes are based on public perception and focus on three main areas: overall brand awareness, absolute attractiveness and relative attractiveness. This creates a level playing field for all competing companies instead of giving an advantage to large multinationals with higher name recognition than the smaller companies. The awards are not open for nomination and the results are based solely on the opinions and votes of the local workforce – making it the only award that is truly representing 'the people's choice'.
The 75 largest companies were selected in each participating market, usually with more than 1,000 employees. This list is presented to a representative cross section of respondents based on region, age and gender. The respondents were asked to identify companies they recognise and indicate if they would like to work for them. This was then followed up with an evaluation of attractiveness factors, such as salary, benefits, work atmosphere and job content and more, for each of the companies
If finding exceptional talent for your business is a key challenge or if you want to take your professional career to the next level, please get in touch with us.